Welcome to the Twin Lakes Playhouse
View or print the 2017/2018 Season Brochure
Addams Family Musical Cast Announcement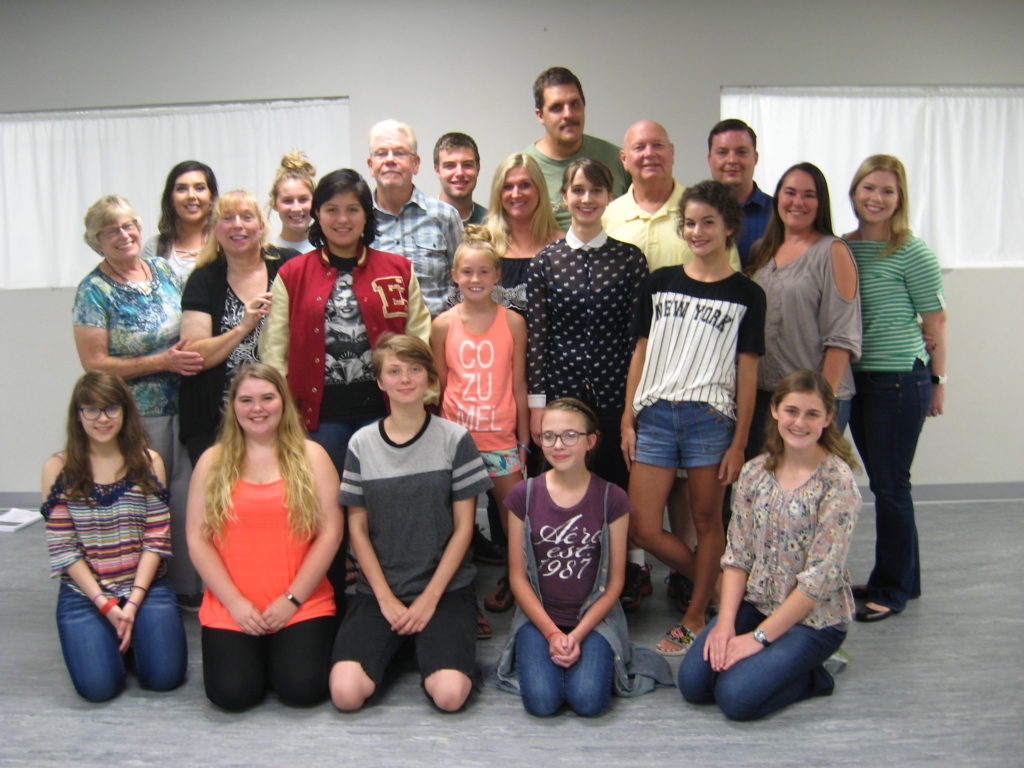 Front row: Hannah Kindstrom, Aubriana Chambers, Genevieve Laredas, Courtney Benedict, Jillian Wendfeldt
2nd Row: Sue Howe, Patty Kotlicky, Bryana Rivas, Cara Jackson, Olivia Wolfe, Marcella Schlote, Melony Floyd, F.E. Quiles
3rd Row: Brittany Cooke, Cate Jackson, Stacy Tiffin, Lee Anne Jackson, Bill Simpson, Mike Horberg
Back Row: John-Carl Laidler, Craig Perry
Not pictured: Reese Villiger, Kayla Smith, Emily Hand
Twin Lakes Playhouse proudly presents the wacky, wonderful The Addams Family Musical opening Friday, September 8 through the 24th.
This musical comedy, created by Marshall Brickman, Rick Elice, and Andrew Lipa, is fun for the entire family.  Laughter is contagious in the upside-down world of the Addams Family where to be sad is to be happy, to feel pain is to feel joy, and death and suffering are the stuff of their dreams.
Directed by Deb Smith and Dylan Gamble, with Musical Direction by Lee Anne Jackson and Choreography by Olivia Wolfe, the cast includes:
Gomez Addams: Stacy Tiffin
Morticia Addams: Lee Anne Jackson
Wednesday Addams: Olivia Wolfe with understudy, Kayla Smith
Pugsley Addams: Bryana Rivas
Grandma Addams: Patty Kotlicky with understudy Sue Howe
Fester Addams: Bill Simpson
Lurch: Craig Perry
Lucas Beineke: John-Carl Laidler
Mal Beineke: Mike Horberg
Alice Beineke: Brittany Cooke with understudy F.E. Quiles
Cousin Itt: Cara Jackson
Thing: Carol Nichols
Addams Family Ancestors:
Gangster: Reese Villiger
Ophelia: Hannah Kindstrom
Pirate: Genevieve Laredas
Bride: Kayla Smith
Flapper: Marcella Schlote
French Courtesan: Melony Floyd
Indian Squaw: Courtney Benedict
English Woman: Sue Howe
Warrior Princess: Cate Jackson
Baseball Player: Emily Hand
Puritan Lady: Jillian Wendfelt
Cavewoman: Aubriana Chambers
Hippie: Brittany Cooke
Performances are Friday and Saturday evenings at 7 with Sunday matinees at 2.  $20 tickets are now on sale at www.twinlakesplayhouse.org or reservations can be made at 870-424-0444.  The Opening Night Performance includes a pre-curtain wine and cheese party hosted by Twin Lakes Playhouse.
Although the playhouse is currently under renovation, it will be open to the public by opening night.
Tickets are $20 and now on sale on this website or by calling the box office at 870-424-0444.
For information on season or individual ticket ordering please click here for the Ticket Information Page  

Single Tickets for main productions- $12.00, Addams Family Musical Tickets – $20.00 or Season Tickets – $40.00 Includes 4 productions are available by phone or online.  Click the button above for the TicketPeak online site or call 870 – 424-0444.
The Twin Lakes Playhouse
600 West Sixth St., Mountain Home, AR
Box office is open 2 hours before each performance.
Reserved seats must be picked up and paid for 30 minutes before curtain or are subject to resale.