Welcome to the Twin Lakes Playhouse

The Wild Women of Winedale
Opening September 11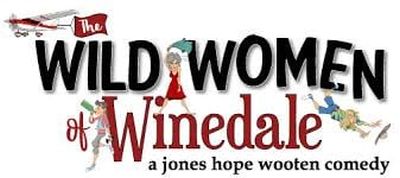 This joyful and exuberant, yet ultimately touching, comedy focuses on three women at crossroads in their lives—the Wild sisters of Winedale, Virginia—Fanny and Willa and their frustratingly quirky sister-in-law Johnnie Faye.
This feisty and fun-loving trio has supported and cheered one another through life's highs and lows through the years, including the early demise of two of their husbands. And they really need each other now, as Fanny experiences a hilariously inappropriate reaction to her 60th birthday, while Willa is so stressed out from her nursing job she resorts to vodka and speed-knitting to cope, and Johnnie Faye, determined to put her year of fraught widowhood behind her, desperately tries to find a man—preferably a man with a house, since hers is somewhere at the bottom of a Florida sinkhole.
These women's lives are further upended by the responsibility of caring for their free-spirited, ailing aunt and the realization that they are drowning under loads of family keepsakes and possessions nobody wants—especially them! With equal doses of hilarity and heart, these extraordinary women come up with delightful and surprisingly unorthodox ways to clear the clutter from their lives, their homes and their relationships so they can move their lives forward. Together they prove it's never too late to take another one of life's paths for a grand new adventure.

Starring:
Fanny Wild-Cantrelle- Deb Smith
Willa Wild- Patty Kotlicky
Johnnie Faye "Jef" Wild – Kimberly Beasley
Interviewee's:
Doreen– Anne Johnson
Nora– Rhonda Hardcastle
Flo– Sue Howe
Glenda– Andi Ellington
Betty– Kayla Smith
Edith – Dianne Pankau
Assistant Director : Dianne Pankau
Stage Manager:  Carol Nichols
Directed by Anne Johnson
Tickets are $12 and now on sale on this website or by calling the box office at 870-424-0444.
For information on season or individual ticket ordering please click here for the Ticket Information Page  

Single Tickets for main productions- $12.00, Musicals – $15, or Season Tickets – $50.00 Includes 5 productions are available by phone or online.  Click the button above for the TicketPeak online site or call 870 – 424-0444.
The Twin Lakes Playhouse
600 West Sixth St., Mountain Home, AR
Box office is open 2 hours before each performance.
Reserved seats must be picked up and paid for 30 minutes before curtain or are subject to resale.