Welcome to the Twin Lakes Playhouse

The Foreigner Now Open!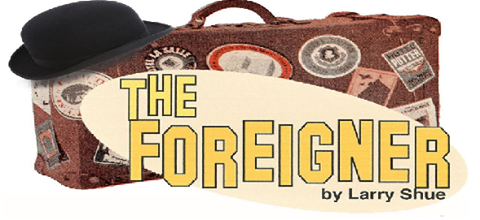 The Foreigner is a fun, two-act comedy by American playwright Larry Shue. The story takes place in a fishing lodge in rural Tilghman County, Georgia where two Englishmen, Froggy and Charlie, arrive as guests. The shy Charlie agreed to accompany Froggy on the trip after his sick wife begged him to go. When people at the lodge try to talk to Charlie, however, he remains silent: he is terribly shy, depressed about his wife's illness, and cannot find the words to reply. Froggy claims that Charlie cannot talk because he is a "foreigner" from an exotic country, and does not understand English. Taking the explanation that he's a non-English speaker as fact, the lodge's guests quickly begin revealing their secrets, and Charlie soon discovers scandals amongst some of the residents of the lodge.
Cast List includes:
Bill Simpson as Staff Sergeant Froggy LeSueur
Michael Reich as Charlie
Andi Davis as Betty Meeks
Olivia Wolfe as Catherine Simms
Cayden Sabella as Ellard Simms
Mike Horberg as Owen Musser
Mike Johnson as the Reverend David Marshall Lee
Tickets are $12 and now on sale on this website or by calling the box office at 870-424-0444.
For information on season or individual ticket ordering please click here for the Ticket Information Page  

Single Tickets for main productions- $12.00, Musicals – $15, or Season Tickets – $50.00 Includes 5 productions are available by phone or online.  Click the button above for the TicketPeak online site or call 870 – 424-0444.
The Twin Lakes Playhouse
600 West Sixth St., Mountain Home, AR
Box office is open 2 hours before each performance.
Reserved seats must be picked up and paid for 30 minutes before curtain or are subject to resale.