Welcome to the Twin Lakes Playhouse
View or print the 2017/2018 Season Brochure
Dearly Departed Now Showing!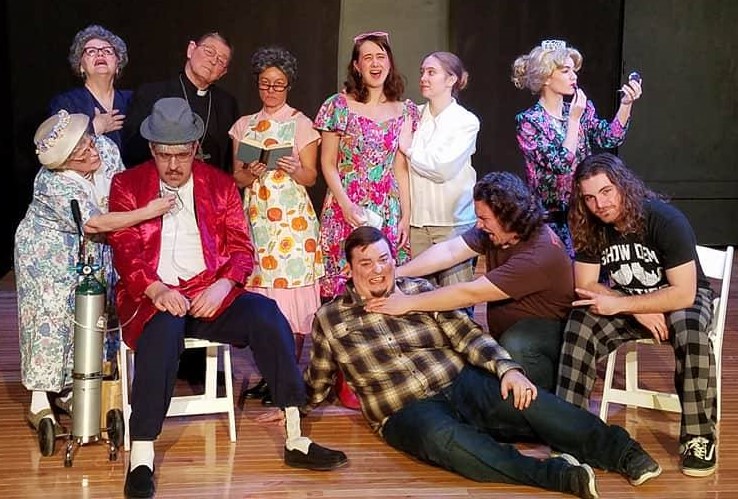 In the Baptist backwoods of the Bible Belt, the beleaguered Turpin family proves that living and dying in the South are seldom tidy and always hilarious. Despite their earnest efforts to pull themselves together for their father's funeral, the Turpin's other problems keep overshadowing the solemn occasion: Firstborn Ray-Bud drinks himself silly as the funeral bills mount; Junior, the younger son, is juggling financial ruin, a pack of no-neck monster kids, and a wife who suspects him of infidelity in the family car; their spinster sister, Delightful, copes with death as she does life, by devouring junk food; and all the neighbors add more than two cents. As the situation becomes fraught with mishap, Ray-Bud says to his long-suffering wife, "When I die, don't tell nobody. Just bury me in the backyard and tell everybody I left you." Amidst the chaos, the Turpins turn for comfort to their friends and neighbors, an eccentric community of misfits who just manage to pull together and help each other through their hours of need, and finally, the funeral.
The play runs Feb. 9-25th, 2018.
Performances are Friday and Saturday evenings at 7 with Sunday matinees at 2.  $12 tickets are now on sale at www.twinlakesplayhouse.org or reservations can be made at 870-424-0444.
Tickets are $12 and now on sale on this website or by calling the box office at 870-424-0444.
For information on season or individual ticket ordering please click here for the Ticket Information Page  

Single Tickets for main productions- $12.00, Addams Family Musical Tickets – $20.00 or Season Tickets – $40.00 Includes 4 productions are available by phone or online.  Click the button above for the TicketPeak online site or call 870 – 424-0444.
The Twin Lakes Playhouse
600 West Sixth St., Mountain Home, AR
Box office is open 2 hours before each performance.
Reserved seats must be picked up and paid for 30 minutes before curtain or are subject to resale.