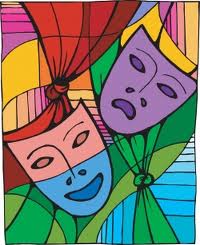 Do you want to be involved in the Twin Lakes Playhouse? Do you want to Act, Direct, build sets, design costumes, create playbills and posters or any of the myriad "roles" that YOU can play throughout the year? Become a member! It's easy. Membership dues are $15.00 per year for anyone 16 years of age or older. Membership dues are paid on or after October 1st of the current year and are honored through the end of the following year.  Please note that children under 16 must fill out and send a membership form but no dues are required. 
To print the application and mail it in with your check, please click on the following link:  Application for Annual Membership.  Send the completed application with your check Twin Lakes Playhouse, PO Box 482, Mountain Home, AR 72654.  If you would like an application mailed to you, please call or email the playhouse and we will gladly send one to you.  870-424-0444, [email protected]
WE APOLOGIZE THAT AT THIS TIME APPLYING ONLINE IS NOT AVAILABLE.